One of the benefits (read: curses) of having to work from home for an extended period of time is that your breakfasts, lunchtimes, mid-morning and afternoon breaks, your post-lunch coffees, your inspiration/exasperation-driven "pauses for thought", the odd boring meeting etc. can be punctuated with a spot of light-hearted television. (Note to supervisors: That paper is coming along perfectly – all good! No worries…!)
Of late, I've taken to rewatching an old favourite of mine: One Foot in the Grave – a 90's BBC UK television programme about a rather cantankerous gent named Victor Meldrew who has suddenly found himself thrust into the retired life and having to deal with spending long periods of time staying at home, and the ensuing boredom and annoyances that befall him during his unoccupied life, which he bears with as much patience and grace as he can muster. Which is none.
As I was watching one episode the other day, I was struck by a humorously distorted dictum that Victor related to his wife's friend who had just suffered a somewhat comical tragedy:
One thing you can be sure about in life: just when you think that things are never ever going to get better, they suddenly get worse!
As we now enter the last stretch of this seemingly never-ending and simultaneously frighteningly rapid year 2020 AD (year 1 AC*), and I – like many others, I'm sure – find myself looking back with perplexity over the last twelve months, I find that Meldrew's words, spoken in jest, have a rather spooky resonance.
2020 tells a very unusual, confusing, sometimes tragic, other times amusing story for all of us. It's been a year of endurance. A year of resilience. A year of mass quantities of toilet roll**. For myself and for my research, it's been… well… a bit like when you try to make a healthy smoothie for lunch but you realise too late you forgot to put the top of the blender on. Only with masks.
In June this year, I was delighted to have been able to become involved in Lothian Lockdown: The Lothian Diary Project – an incredibly interesting and important interdisciplinary research initiative at the University of Edinburgh seeking to investigate the impact of the Covid-19 pandemic on people living in Edinburgh and the Lothians through the medium of self-recorded video and audio diaries. Listening to the stories of so many courageous and unfailingly optimistic individuals has been one of the few bright spots of this dark period for me.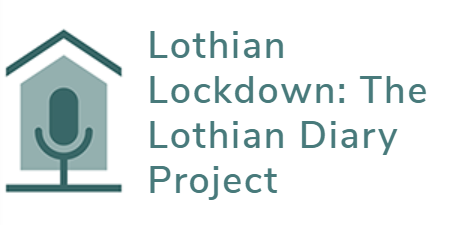 Inspired by them, I thought I would share with you some high/lowlights of my own personal pandemic story (top tip: when choosing a rental property in the future, remember to ask the important questions such as: "Is it gas central heating?", "Do I need to buy any furniture?", "How comfortable will I be locked up in here 24 hours a day for about 4 months?") before telling you a little bit more about the project and how you can get involved.
From fieldwork to home-working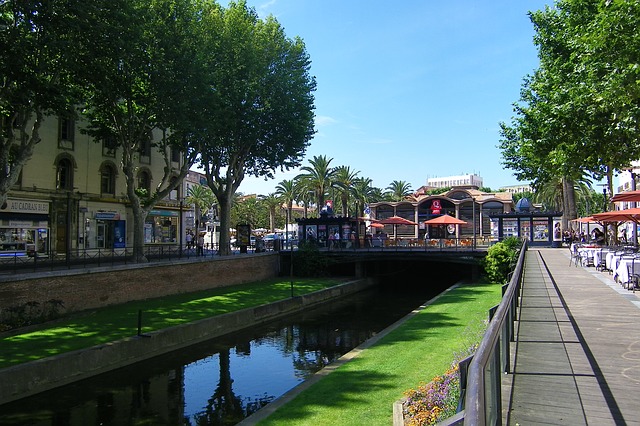 Before Covid-19 even had a name, in January 2020, I had recently returned from a three-week long factfinding trip to Perpignan, France, the site of my proposed six-month long ethnographic fieldwork. As a PhD student of linguistics, with a special interest in language policies and ideologies surrounding the minority indigenous languages of France, it was my plan to spend an extended period of time in the region known as Northern Catalonia, to study the policies, beliefs and practices surrounding the Catalan language. As the sociolinguistic situation of this region has received relatively less academic attention than other minority language contexts, and being keenly interested in minority language maintenance, activism and revitalisation, (and not unmotivated by the pleasant aestival Mediterranean climate…), I eagerly awaited the last few weeks in Februrary/first few weeks in March, when I hoped to be granted access to my desired fieldsites and I could begin my research.
Or so I thought.
On 13th March, I received an e-mail from the College of Arts, Humanities and Social Science, with the rather ominous heading "CANCELLATION OF INTERNATIONAL FIELD TRIPS AND INTERNATIONAL STUDENT PLACEMENTS", officially confirming my and my supervisors' fears over the previous few weeks: my trip to France was not going to happen, and my PhD hung in the balance. There's no denying that, after what felt like a year of scrambling around, planning and replanning and replanning again, and staving off a constant stream of impostor syndrome, when I was finally feeling that I was making progress, this was devastating news. And, after a lot of e-mails back and forward, and a few emergency meetings, it was decided that my PhD project as originally planned would be impossible to do without the essential fieldwork element. Alas, therefore, it was truly a case of going back to the drawing board.
*BEGIN PANIC MODE*
Well… usually, yes.
However, one thing the pandemic has taught me is that I have a surprising internal crisis management system. To my complete shock, when faced with the daunting prospect of almost completely redesigning my research from the ground up, I was able to make some very quick decisions:
I was going to stick to the same sociolinguistic context as much as possible.
I was going to do a social media study, which meant I wouldn't have to wait around to see if fieldwork became possible later.
I was going to do an article-based PhD, instead of the traditional thesis.
I was going to keep an open mind, browse the web (as I was already doing excessively and mindlessly anyway) and let myself be guided to the important issues.
And, amazingly, I found that between March and May, I was able to devise an (EXTREMELY rough) action plan for my PhD, with some possible ideas for 3-4 papers that I could write based on my observations of Northern Catalan social media, and an indicative timeline. I began to feel that quiet but visible sense of excitement again. I felt creative, I had ideas. I had a sense of direction, and hope that I could bring everything together. So, after presenting my revised project to the panel of my second year review, and receiving the green light, I walked into the unknown with an unexpected skip in my step.
Locked down or locked in?: The curse of the studio flat
I'm a bit of an introvert at the best of times. There's something about the idea of having to interact with potentially large numbers of people every day that fills me with dread and apprehension.***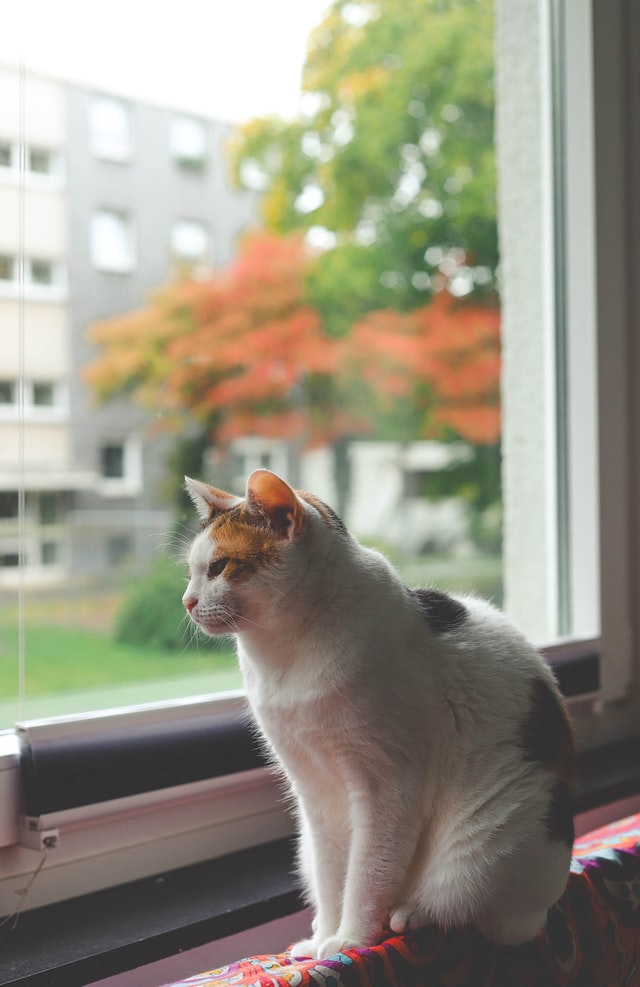 NB: This is not my cat. If it had been, lockdown would have been much more fun. For me, anyway: the cat would have probably tried to run away.
However, the idea of never meeting anyone for an indefinite period of time, not even friends and family, and having only myself for company (*shudders*) , is not much better. I'm sure you'll agree, the life of a PhD student is often a solitary one. You've got your own project to focus on, you're in charge of your own schedule and you spend many hours beavering away on your own – even when you're around other people.
Sometimes those mid-morning coffee meets with colleagues are what get you through the rest of the day!
And, suddenly, with the beginning of the lockdown, I didn't even have that…
I was stuck in my 20m2 studio flat, during the summer, with a window that only opened 30 degrees, no air-conditioning, intermittent Wi-Fi and a working desk that was only about 70cm away from my bed, and a metre away from the kitchen****. Safe to say: I felt incredibly trapped. And with the stress of resurrecting my fallen PhD before me – as yet with no assurance of an extension or how long it would be – , and the work-life divide effectively eliminated… well, it was a worrying time.
And that's without even adding in the worry about my family of predominantly healthcare workers and vulnerable people an hour away in Motherwell. (I hope my deposit for that flat is returned before they find the depressions in the floor from my incessant pacing up and down…)
But, as before, I tried to remain resilient. After taking some time off to clear my head, I tried to be patient with myself, and remind myself that the world is currently in a global crisis: this period is not, as a few insensitive tweeps seemed to think, a gift from the god of productivity. I got up whenever I felt rested enough, worked as much as I could every day, unapologetically taking regular breaks, and called my friends and family when I needed to hear the voice of another human being. I was also given tremendous support by my supervisors, colleagues and staff at SGSSS.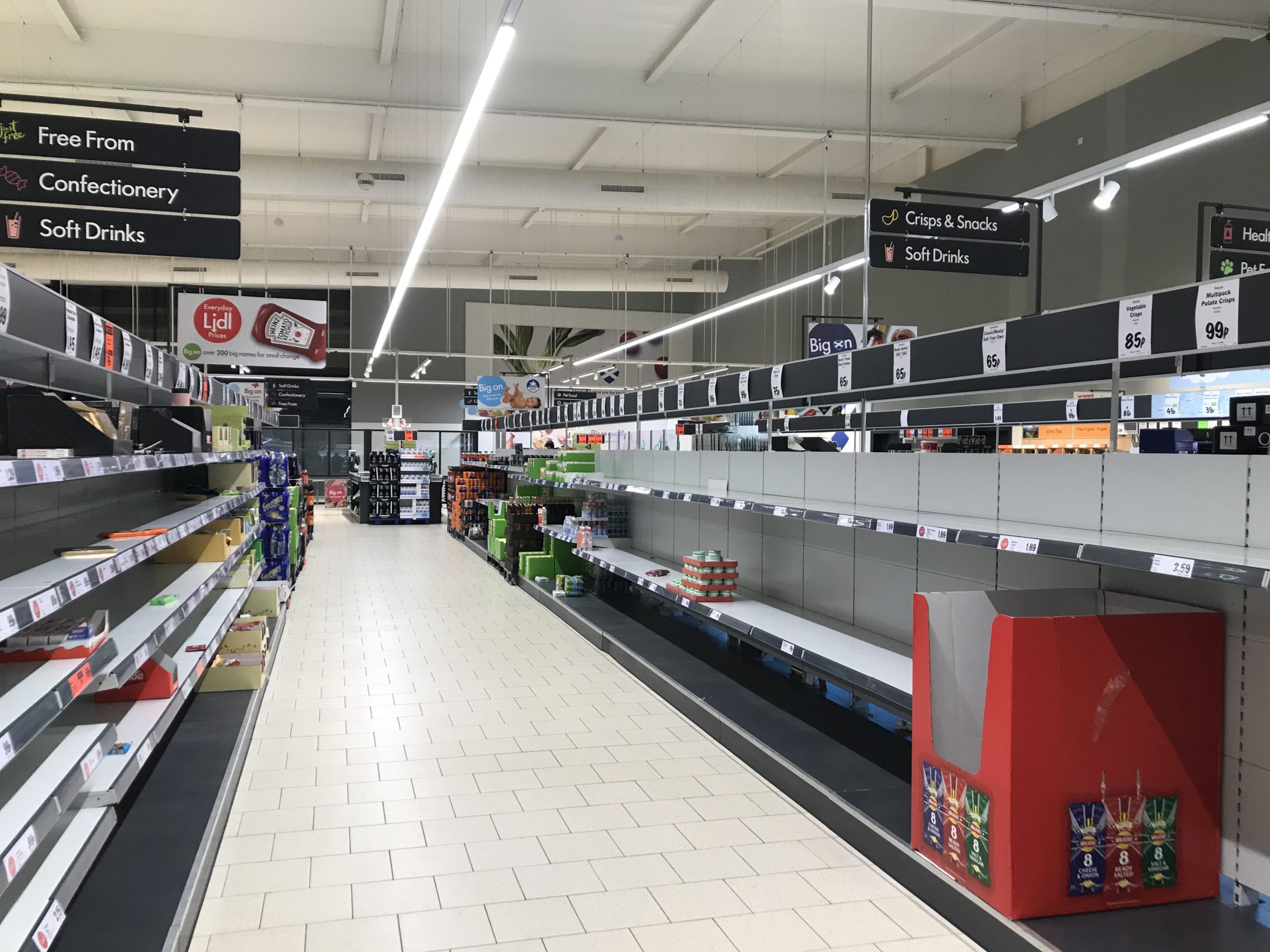 You know you're in Scotland when the first aisle to clear is the biscuit aisle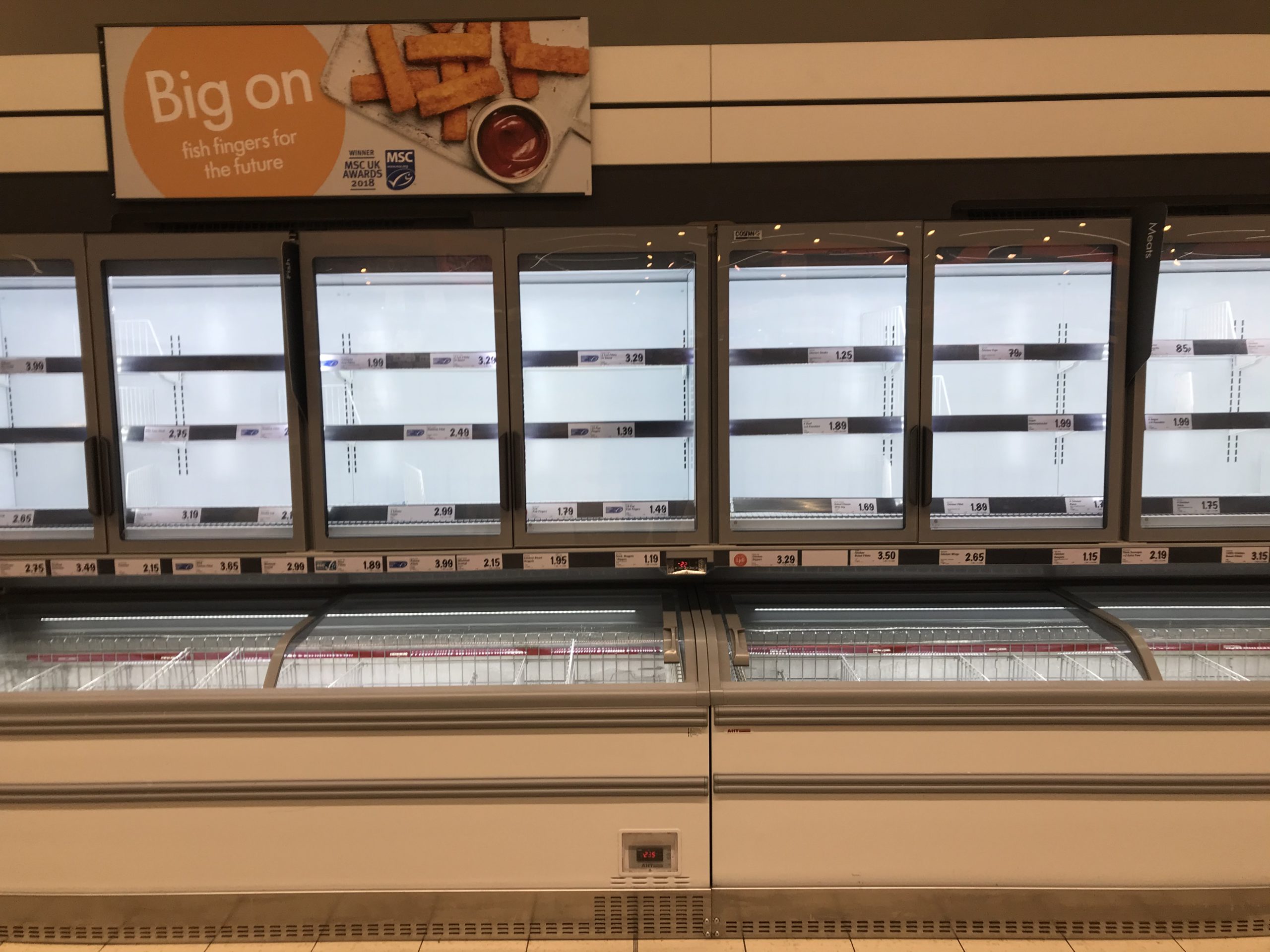 It wasn't easy. I was depressed at times. I was bored. I felt my research was going nowhere. I felt isolated. I was scared of going out, even to the shops, even at times to meet the delivery driver who brought food. Yet I missed people. I missed the things I took for granted. Like taking the bus or having a coffee in Costa or going to a restaurant. At one point when I summoned enough courage to go to Lidl to buy some food, the scene there of empty shelves and falling fixtures almost brought me to tears. It was like something from The Walking Dead (another TV programme I may have watched…)
When life gives you lemons, go and buy oranges
Still, like many of the participants who have taken part in the Lothian Diary Project have told us, there were some undeniable bright spots. During the lockdown, I gave myself the permission to begin reading for pleasure again for the first time in a long time, and found that I had really missed it. I easily met my Goodreads reading challenge by about August this year, and even started up my own virtual book club: we're now onto our fifth book*****. Later, on the few occasions where I did venture out, I – like many others – had the chance to really see Edinburgh, almost for the first time. I went for walks down to The Shore area in Leith with one of my closest friends, and staggered pantingly up the hills in Holyrood park. I even went on a day trip to Cramond Island, and managed to get off again without getting stuck there – which with my sense of direction and timekeeping, was a very real concern.
And, crucially, I feel that I made some progress in my research – qualitatively if not quantitatively. While I may not have been exceedingly productive, I managed to think and read more than I had done for months, and my research journal, started in May 2020, now stands at almost 22,000 words. And as we approach the end of the year, and I've now moved to a larger flat (with more than one room!) that I share with said friend above, and been granted a much-needed and generous extension to my research funding******, there are many reasons to be thankful and optimistic.
Don't take that mask off just yet…
Unfortunately, however, the truth is that we're still not out of this. I may have got down to two coffees and only four chocolate digestives a day, and have finally settled on my favourite Teams virtual background, but the pandemic – and, indeed, the lockdown – is still upon us.
There is still much to grieve: hundreds dying every day, families being kept – if not torn – apart, and many elderly and vulnerable people who may not see their loved ones over the festive season. Many, too, bear the scars of the first lockdown, and suffer – sometimes in silence – in their own personal ways.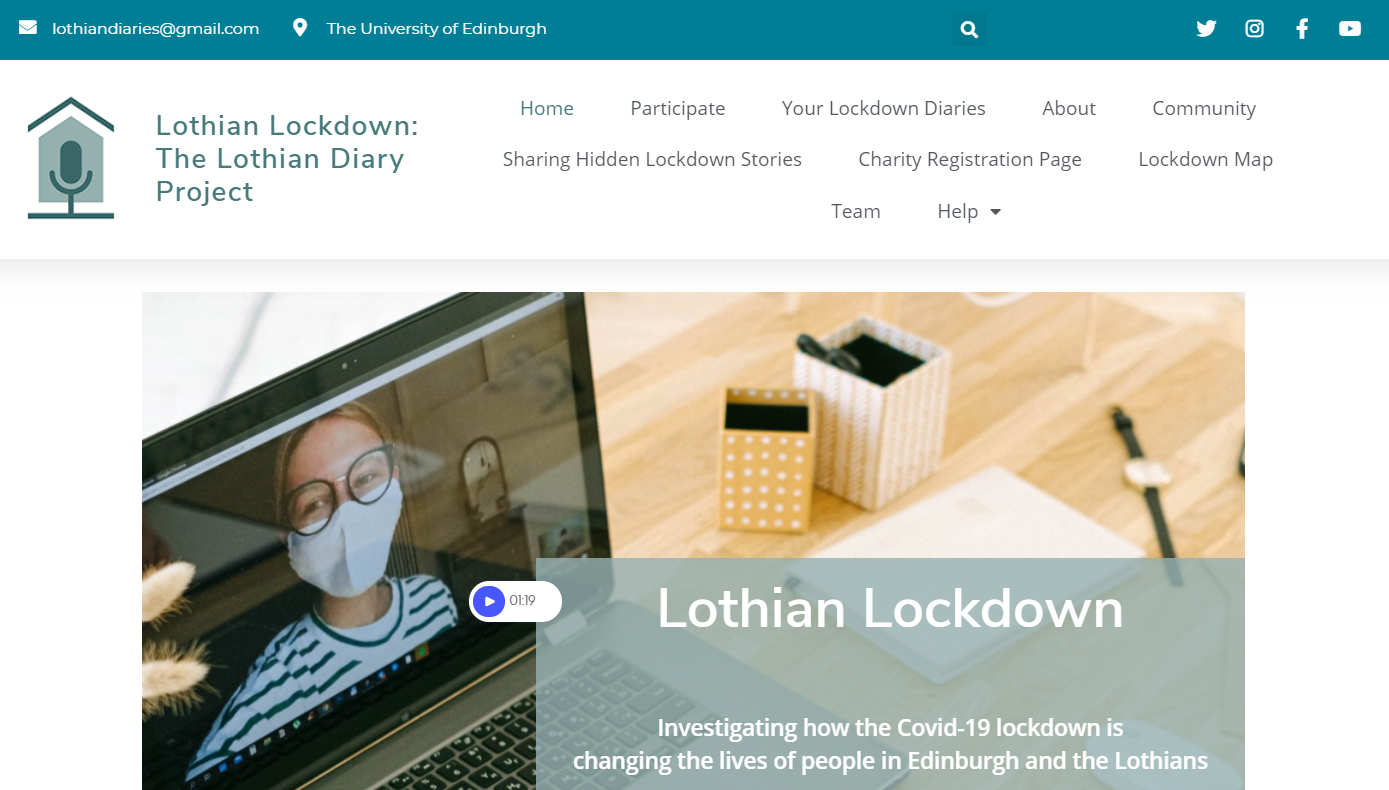 That's why I have truly loved being part of the Lothian Diary Project. While its aims are simple, and its capacity to have immediate, direct impact may seem small, the project gives people in our community a rare opportunity to let their voices be heard. It allows them the space to tell their own personal story of what living through this pandemic has been like, in their own way and in their own time. And, importantly, it gives them the opportunity to help others too.
With their consent, their audio diaries will be passed onto Museum and Galleries Edinburgh in order to construct an oral history archive – meaning that future generations can know what it was like for ordinary people to live during this period. In addition, at the conclusion of the project, we hope to submit a report to the Scottish Parliament's Covid-19 committee, in order to provide rich insight into the effects of the pandemic. Moreover, in our second phase of recruitment, we have established collaborative partnerships with charities in order to uncover the hidden stories of more vulnerable and marginalised members of our community, and make sure that policymakers and others hear their voices too.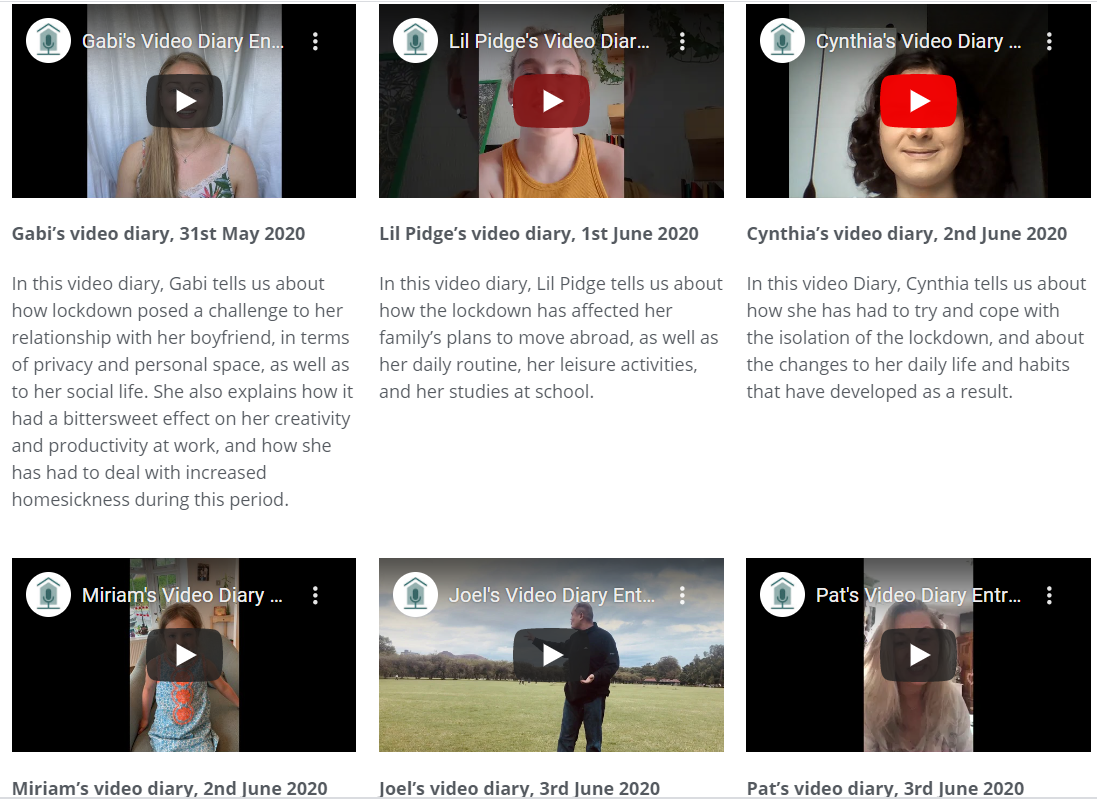 We welcome video and audio diaries from anyone residing in Edinburgh and the Lothians, regardless of nationality or language background, and we would be delighted to hear from you. Tell us about how the pandemic impacted upon your studies, how you coped during lockdown, new places you visited, new skills you learned… tell us what this strange period in our collective history has meant for you.
To find out more, or to get involved, visit our website at https://lothianlockdown.org/ or e-mail us at lothiandiaries@gmail.com.
A final thought
2020 has been disastrous for so many reasons, and beyond the tragedies it has brought to those who have had the misfortune of contracting or even succumbing to the virus itself, it has laid waste to the plans of a great many more.
Fieldwork or not, none of us as researchers have been spared, and mitigation has become the new order of the day. But the two positive things I hope that we can all take away from all of this is a greater clarity about what really matters to us in life, when push comes to shove, and the certainty that we are all a lot stronger and more resourceful than we used to give ourselves credit for. If we can get through this, we can get through anything.
Now, if you'll excuse me, Family Guy is just starting…
_____________________________________
*Anno Covidi
** This blog post is sponsored by Cushelle 4 ply. †
*** Don't get me wrong, I enjoy the act of meeting people – it's the idea that scares me.
**** And the many snacks therein, staring at me all day every day, and me with nowhere to run.
***** Misery by Stephen King. We're not quite ready for The Stand…
****** For which I will never be able to thank the SGSSS enough.
† It's not, but it wouldn't have surprised you, right?
Photo credits: First photo by Sudmedimmo on pixabay.com; Second photo by Manja Vitolic on unsplash.com. Other photos and screenshots by the author.